Article content
Didn't talk about it.
Article content
Didn't give it a thought.
Article content
Not once.
Not just a little.
Not in passing.
Not for a single second.
Never.
The Sovereignty Act didn't ever register on the radar of this big company with big plans.
So we find out Wednesday.
"I can tell you the words 'Sovereignty Act' never came up once," says Neil Sweeney, a De Havilland vice-president at the executive table for all the high-level chinwags.
"We're focused on building aircraft, supporting our customers and supporting the planes we have in our fleet. We're not a political company. We're an aircraft manufacturer."
The De Havilland workers applaud.
And so they should.
You see, De Havilland Canada just announced a XXXL state-of-the-art project, building top-notch planes and much, much more, on land sitting almost midway between Chestermere and Strathmore, 13 minutes east of the Calgary ring road.
Article content
A game-changing investment. An historic announcement. Several hundred construction jobs. The beginning of what they're talking about is 1,500 jobs on site once everything is a go.
And it's happening without the provincial government forking over a single dime of a handout. No big-bucks sweetener to get this to the finish line.
Then there's the politics.
All this good news is rolling out a couple weeks before Albertans find out who will be the new premier.
If the polls are right and the nose-count numbers hold and Danielle Smith, the frontrunner in the UCP leadership race, becomes premier, we could see the Sovereignty Act debated in November.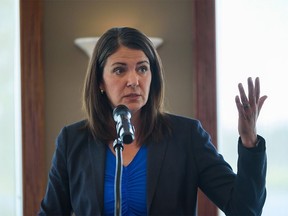 Under the Sovereignty Act, the province could refuse to enforce specific federal laws or policies violating the provincial rights of Alberta or breaching the individual rights of Albertans.
Article content
The Sovereignty Act raised quite a stink in some circles and the pushback has gone on for months, not weeks.
You do remember what the premier and Travis Toews, his former point man on the province's books and UCP leadership candidate, said the Sovereignty Act would do to investment in Alberta?
It would be a whole lot of awful. Downright scary. So scary it would scare the living daylights out of business.
If they were somewhere else, many of them wouldn't come here. If they were here, many of them might very well pull up stakes and hit the road.
Surely De Havilland got the memo.
Surely they read or watched the many displays of fear and loathing.
Smith's Sovereignty Act would deliver a "body blow" to Alberta.
It would "massively drive away investment," said Kenney.
Article content
Massively.
"It would cause people to leave the province and businesses not to come here," said the premier.
It would send a "devastating message" and shake investor confidence.
Devastating.
It would create "political chaos." Toews said, "outright chaos."
Chaos. Outright chaos.
It was "risky" and it was "dangerous."
It was the stuff to keep people up nights.
"Instead of investment flying into this province, I believe there'd be a great chance we would see investment fleeing the province," said Toews.
Yet here the newshounds gathered at an announcement near the Calgary airport where big-time investment was flying into the province.
Literally.
One more nugget from the legal scholar Howard Anglin, once a top adviser to the premier, as he opines on the prospect of economic disaster with the Sovereignty Act.
Article content
"Companies would relocate their headquarters out of Alberta faster than they moved from Montreal to Toronto in the 1970s when Quebec separatism was ascendant."
Then there are others, though perhaps not scholars, who don't think this rhubarb over the Sovereignty Act is a big deal in the world of dollars and cents.
It's politics. Gamesmanship.
Back at the aircraft plant press conference, the politicians congratulate themselves and other politicians congratulate the politicians who congratulate themselves.
Article content
The time comes for the business question wrapped in politics.
The company says Alberta was a perfect choice as they looked at a great, young, diverse workforce able to produce aircraft for decades to come.
It was more affordable here than around Toronto or in B.C.
There are lower taxes, no sales tax, less red tape, places who can train skilled labour.
But what about the Sovereignty Act and certain political figures in this province predicting all manner of gloom and doom, something sounding near an investment apocalypse, if Smith ever got into power and her plan became the law?
After all, De Havilland, a great Canadian company, wasn't leaving Alberta.
They were staying and growing and grabbing headlines with their heavyweight project of the future.
Does this company really worry about the politics? How sensitive are their plans to changes in who runs the political show?
De Havilland's Sweeney makes it clear economics trumped politics.
Alberta has a great business climate. Again, a more affordable standard of living.
"When we're thinking about where we're going to be able to recruit a workforce, Alberta comes top of mind, Calgary comes top of mind."
The De Havilland workers applaud.
And so they should.