Article content
The last number he gets shows us what we already know.
Article content
Stark truth.
Article content
Premier Jason Kenney ends his time in office far, far away from where he started.
The man thought to be the messiah for Alberta conservatives maintains the approval of only 30% of Albertans, down a couple points from three months ago.
Ah … back in June of 2019 after his landslide election victory, those were his salad days, the happier times that didn't last long.
Back then, the same Angus Reid Institute pumping out this latest nose count had the premier sitting pretty with the backing of more than six in ten Albertans.
That's 61% to be exact.
But it was 61% and then a 14-point drop before COVID-19 and a steady slide down from there.
The best you can say Kenney is not at a feeble 22% thumbs-up from Albertans, the position he was in when the promise of a Best Summer Ever became the reality of a cruel joke.
Article content
Look at the ugly arithmetic and let the math sink in.
What a fall, an epic fail, a monster dive for someone once seen by many in conservative circles as a political superstar.
From 61% three years ago to 30% now, more than half his support evaporated.
Even with all his good news announcements and all his attack-dog pronouncements and all his attempts to end on a happy note, nothing is working for Kenney.
Most Albertans just want to turn the page on Kenney's Long Goodbye.
Let's be clear. His tumble began before COVID and he did not recover after the worst of COVID was over.
As the Angus Reid number crunchers point out, earlier this year Kenney was in the doghouse on every issue.
For the record, in Saskatchewan, Premier Scott Moe is at 57% approval.
Article content
And, in B.C., Premier John Horgan is leaving office with the backing of half of British Columbians.
Before we leave the numbers, nasty though they be, here is a statistic for those individuals who cannot face the fact their messiah was a pretender.
Only roughly 1 in 14 Albertans strongly approve of Kenney.
That is rough.
What happened?
The blue truck, man-of-the-people shtick was just that.
A gimmick. A posturing. A con to suck in the suckers.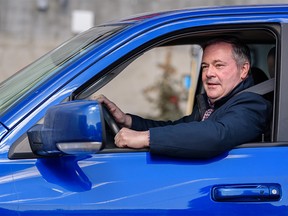 If Kenney's blue Ram pickup was his symbol, it was fuelled by premium-grade, high-octane arrogance.
He talked a good game about elites but he was an elitist himself.
Those who tried to speak truth to power were mercilessly sidelined.
Kenney was largely left with a corps of butt-kissers and people without a clue about politics or real life.
Article content
So it was no surprise when UCP members gathered late last year for their annual gabfest.
Kenney felt he was on top of the world while the ranks of those who wanted him gone grew.
Kenney told the press he was thrilled, couldn't be happier, didn't encounter a single negative comment at the convention.
He felt more confident about his leadership than he had for a very long time.
A newshound suggested the premier wasn't listening to what was happening. Kenney didn't listen.
"I think that caricature is completely inaccurate," he said.
Case closed.
Article content
Down in Ottawa, we have the new federal Conservative Leader Pierre Poilievre, shaking things up, getting a lot of attention, telling Canadians he is willing to fight for them, even having undecided voters giving him a look.
He has captured the mood of discontent felt by many. He is in tune with what a lot of people have on their minds.
He appeals to conservatives but has reached out to others, including those who haven't been involved in politics, folks not happy with the same-old, same-old and wanting someone to tackle their bread-and-butter grievances head-on.
One new poll has the Conservatives six points up on Prime Minister Justin Trudeau's Liberals.
A second poll has the Conservatives ahead of the Trudeau Liberals being squeezed by the NDP as they gain support at the expense of the Trudeau crowd.
Article content
Appears all sorts are fed up with the prime minister.
Poilievre and Trudeau finally meet mano a mano Thursday.
In this first round of jousting, there are little fireworks. This is only the first of many rounds. There is plenty of time.
Poilievre once again demands Trudeau cancel upcoming tax hikes on gas and heat and groceries.
He attacks a jet-setting Trudeau on behalf of those worried about their home heating bills this winter.
"Will the prime minister ground the jet, park the hypocrisy and axe the tax hikes?"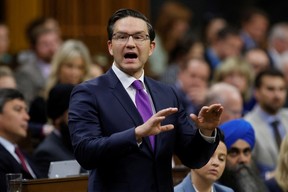 Trudeau's answer, of course, is no.
The prime minister insists he is helping some Canadians in other ways. He looked tired. Can't imagine why?
Er … actually I can.
I've heard from scores of readers betting on Poilievre. Fair enough.
One can only hope he learns the lesson from Kenney's demise.
Do not lose touch with the people who put their faith in you.
Do not betray their trust.
Do not cocoon yourself in a bubble far from the suburban Calgary streets where you grew up.
Be humble. Listen.
Here ends today's lesson.