Article content
Extra! Extra! Read all about it!
Article content
Interesting poll numbers not yet reported.
Article content
Danielle Smith 45%. Travis Toews 28%. Brian Jean 9%. Todd Loewen 7%. Rebecca Schulz 6%. Leela Aheer and Rajan Sawhney further behind.
These are numbers from UCP members who say they've already voted in their party's leadership race.
We're talking not-revealed-until-now numbers from the same nose-count this piece of newspaper real estate rolled out late last week.
The poll of 1,792 UCP members eligible to vote for the new party leader and premier.
The number crunch done by Hamish Marshall of ONE Persuades. The numbers gathered Sept. 13.
As loyal readers already know, the overall poll showed 42.5% support for Smith, Toews at 28.8%, Jean at 10.4% and then all the rest.
It also showed Smith would win in the fifth round, after four leadership hopefuls with fewer votes fail to make the final cut.
Article content
But we also found out 46.4% of the UCP members in the poll said they had already voted.
Those votes are done. There's no turning back. The ballots are in the mail and Smith leads there by 17 points.
Then, with the almost-half of UCP members polled saying they will certainly vote, but hadn't voted as of last week, Smith is also well ahead of Toews.
So, for Toews to win, he has to overtake Smith in a very big way with those folks who have not yet voted.
How is that going to happen? What possibly could trigger such a seismic shift?
What is going to create this mother of all comebacks?
When is Toews going to make his move?
Does he have a move to make?
The guy can't seem to shake the Premier Jason Kenney crew.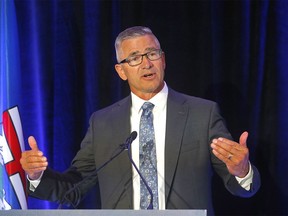 Then there are those few who say Brian Jean could win in a tight three-way battle and Smith may not even end up as the runner-up.
Article content
But no one actually coughs up a poll of UCP members pointing in that direction or any other direction than Smith.
If such a nose-count exists, I'm all ears.
The latest poll also outlines the second choices of candidates who will drop off the ballot when they finish dead last in one of the rounds of voting Oct. 6.
Looking at the expected also-rans, it doesn't show anything like an Anybody But Smith movement emerging.
We now hear some in the UCP have resigned themselves to a Smith win.
We now hear some are already jockeying to keep their privileged place at the trough.
There is a smattering of souls who have even contacted yours truly, people who I know would drive the other way if they saw me stuck in a blizzard.
Even souls who accused your scribbler of being a big, bad meanie to Kenney are hollering for a lifeline.
Article content
The pathetic plea goes something like this.
"You know me. I didn't really support Kenney. You thought I supported him but I didn't agree with him. Not really. It just looked that way. Truth be told, I didn't even like him. He didn't listen. It's not my fault."
Then …
"You know Danielle Smith. Can you put in a good word for me?"
I've seen rats on a sinking ship with more character.
Meanwhile, Kenney has taken his best shots at Smith.
He held back in the mourning period for Queen Elizabeth II. A ceasefire.
What's next?
The latest poll shows the premier's popularity has not gone up with party members after raking Smith over the coals.
Among Albertans, there was a bump in support for the UCP when it became clear Kenney was out.
Will the premier now swing for the fences right to the end, bitter though that end may be?
Article content
For her part, Smith is running hard.
She is said to be taking nothing for granted.
Smith has been ahead before and lost. Remember the 2012 Lake of Fire election.
Who could forget?
This time, Smith came out early with a hard-hitting message.
It sounded a lot like: I hate Trudeau as much as you do. I love freedom as much as you do.
She pushed a plan to fight Ottawa and only one in five UCP members in the latest poll rule out her Sovereignty Act brainwave.
The Sovereignty Act is Smith's proposed law where the province would be able to refuse to enforce federal laws or policies violating the rights of Alberta or breaching the Charter rights of individual Albertans.
What's this?
A gentleman sends me something from an outfit called Shaping Alberta's Future.
They say they are a political action committee formed to promote Kenney and the UCP.
They say Smith is a conservative of convenience.
They say Smith has a broken record of political instability.
They say Smith is a political insider.
They say her positions on the oilpatch are left of centre.
Left of centre? If Smith is left of centre, what the hell is centre?
Anyway, one thing is clear.
The calendar marks the days but it's not over yet.