Reviews and recommendations are unbiased and products are independently selected. Postmedia may earn an affiliate commission from purchases made through links on this page.
Article content
Joel Waterman's soccer stock seems to be constantly on the rise.
Article content
In fact, his value has shot up so much that he suddenly finds himself in Qatar only days after making his first appearance for Canada's national team.
Article content
It's quite the World Cup fairy tale for the 26-year-old former Cavalry FC defender.
"The last few days have been crazy — the craziest days of my career so far," said Waterman, who joins Calgary's Sam Adekugbe as the local flavours of Canada's defence. "You make a debut one day and find out that you're in the World Cup the next. So lots of emotion, lots of tears, lots of phone calls …
Article content
"It's been a whirlwind, but I'm pretty excited to be here."
Here is in the Middle East with his new Canadian teammates — 'The Brotherhood' — gathering for the 2022 FIFA World Cup.
Waterman's ascent to the team seemed to be an impossible dream, just as it was for a long time — try three-plus decades — that Canada's men would ever make their return to the world's largest sporting event.
Article content
But yet there he is on the 26-man squad — named 10 days ago — with Game 1 for the Canucks on tap Wednesday against Belgium (noon, CTV/TSN).
"I've always gone my career not expecting much," said Waterman, whose first national cap — that in a friendly against Bahrain, which ended 2-2 — came just 48 hours ahead of the team's selection. "I just try and play my best and take the opportunity when it comes.
"Obviously, your mind goes there, and you wonder if you're going to make it and what the Bahrain game is going to mean and whatnot. But all that stuff comes secondary to just putting on that shirt and playing for your country. I wanted to be part of the squad, but that was just a hope three or four days (before selection). But I knew I was close, and I gave myself a chance, and it all panned out.
Article content
"The Bahrain performance, to be honest, I thought was pretty average for me and for the team," continued Waterman. "It was a really good game to test the guys on the bubble. It was a good game for us to get our feet underneath us and all be together and start this journey. I don't know if the game had any implications on my final roster pick. I don't think it did."
So then what made the selection possible for the native of Langley, B.C.?
"First and foremost, my talent and my abilities," Waterman said. "I'm here because of my passing ability on the ball. I add something different. I can give the team a different look — an X-factor.
"Obviously, players getting injured helped me, too. That's bittersweet — you never want to see that. But if I wasn't good, I wouldn't have even been in the conversation."
Article content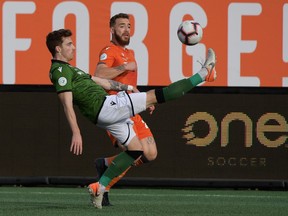 Plus there was the success he enjoyed not only for himself but with his Major League Soccer side, CF Montreal, this past season.
'Le CFM' was an MLS force, thanks largely to the defensive unit anchored by Waterman.
In fact, fellow Montreal defenders Alistair Johnston and Kamal Miller were also named to Canada's roster.
"I know the chemistry between us Montreal boys helped, as well, and how well we did as a club," said Waterman. "I thought I had a great year. I thought I improved a lot. I just keep getting better every day, and that's what you want to do. At the end of the day, I came here because of the way I played. I think I deserve this opportunity."
Waterman's no stranger to sudden vast improvement.
He's been doing it throughout his entire career.
Article content
After rising to the fore in U SPORTS soccer with B.C.'s Trinity Western Spartans, he came to Calgary and began making a name for himself with — first — the Calgary Foothills 2018 PDL championship team and — then — with Cavalry during its inaugural Canadian Premier League campaign before becoming the first CPL player ever to be sold to an MLS franchise.
"Joel is the perfect role model for a player that has gone through every layer of the Canadian development system," said Cavalry GM/head coach Tommy Wheeldon Jr., who mentored Waterman at both the Foothills and Cavalry clubs. "From minor soccer into U SPORTS into PDL and then drafted by us at Cavalry FC before being sold to CF Montreal, he has rose to the challenge and improved his game."
Article content
"Calgary was amazing to me," Waterman said. "Tommy was a massive influence on me and my career. I can't thank him enough and the club enough. The players there helped me get better. I love the city, and I love the people. I only have great memories of playing there, except not winning the (CPL's) North Star Shield. I'm glad I made a stop there in my short career."
But for now, the only stop that matters is this one in Qatar.
While it's come as a surprise to see Waterman there, it's just so like him to have made it happen.
"I was, for sure, a late bloomer — I didn't hit by stride until I was 20, 21 years old," added Waterman. "The opportunity, obviously, came at every level, and I think I've (exceeded expectations) every step of the way in my journey. But in every footballer's career, they'd have to admit that things have to kind of go their way, and that happened to me, as well.
"If it's not minutes on the pitch, I'm going to do my best for the team off the field — make sure that I'm the best in training so that elevates my teammates.
"Commit to The Brotherhood, because that's no joke. We don't lie about that. It's all of us in it together. So I'm excited to play that both role on and off the pitch."