Article content
PHILADELPHIA — This was high praise for Big Z.
Article content
With the Calgary Flames now nearing the quarter-pole of this new campaign, hard-to-please head coach Darryl Sutter heaped a major compliment Monday on hard-nosed rearguard Nikita Zadorov.
Article content
"He has been our best player in the physical part of the game and the execution part of the game," Sutter said prior to a battle with the Philadelphia Flyers in the City of Brotherly Love. "He's been our best defenceman, clearly."
Article content
Coming from Sutter, that's Hallmark-sorta stuff.
"It's a tricky one — I gotta respond tonight then," Zadorov grinned after morning skate at Wells Fargo Center. "You can see when he trusts me on the ice. It's a pleasure to play big minutes, big situations. It's great to hear it. All I'm trying to do is play my best hockey so we can win some games."
Article content
The 27-year-old Zadorov — now skating with MacKenzie Weegar on Calgary's second defence duo — wasn't exactly blindsided by those accolades from the boss-man. Sutter has, going back several weeks, been consistently shouting out the skyscraping Russian in No. 16.
These remarks are noteworthy, though, because this initially seemed like such an awkward fit. Don't forget that last fall, after arriving as an off-season trade acquisition, Zadorov was parked in the press box for five straight as a healthy scratch.
From Darryl's doghouse to "he's been our best defenceman," that is an impressive ascent.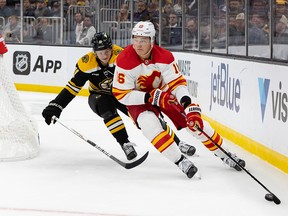 Sutter stressed that Zadorov's game has really matured over the past 12 months, then spit out a list of examples: "Knowing what the score is, knowing who is on the ice, things like that you talk to him about, using his stick properly, being a better penalty-killer, still maintaining a physical presence without taking penalties … "
Article content
"When you get a coach for two years who is winning Jack Adams and he's known for making decent players into good players … I think that definitely helps," Zadorov said. "It didn't start well because I just wasn't the player who I am right now. It took me a little time to figure out how to work with him, how to play his system, what he wants to see on the ice from me.
"It just takes time, you know, how you respond to what coach wants to see? That was a big thing for me."
It helped him become a big deal for the Flames.
Article content
Zadorov currently leads the club his crew, certainly no surprise. He is also doing some damage on the offensive rush. With Saturday's snipe in Florida, his fourth of the season, he has already matched his goal total from 2021-22.
The most telling stat, however, is found under the column marked 'TOI,' short for time on ice.
Everyone talked about a Big 4 on the Flames' blue-line — a nod to Rasmus Andersson, Noah Hanifin, Chris Tanev and Weegar. It has turned out to be more like a Big 5.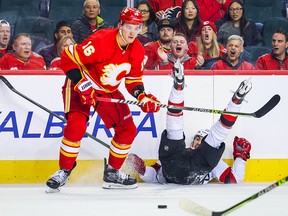 Zadorov has regularly logged 20-plus minutes. Heading into Monday's meeting in Philly, he was second on the team in average shorthanded workload. He is now being auditioned on the second power-play unit, which would only make him more busy. Even with Tanev back from injury, Sutter has been hesitant to split up that second pair.
Article content
Zadorov was eager Monday to share the spotlight with Weegar, calling him "one of the best partners I've ever had in my life" and adding "you know he is going to be supporting you in all situations," but the coach wasn't spreading the love during his own turn at the microphone.
"Whoever (Zadorov) has played with, he has carried them," Sutter said. "That's a real positive in saying that about Z, but it's also saying that there's other guys that have to be better players for us."
Zadorov has been in those crosshairs before.
Compliments are much better.
"I've always been the guy, if there are some challenges, I would love to face them," said Zadorov, who recently nudged past 500 career appearances at the NHL level. "You need to just go through it. Nobody is going to feel sorry for you, at the end of the day. There are so many young kids coming and they are stealing jobs. There is so much competition in this league.
"There's just no time for B.S. So you just have to toughen up and go play hockey."