As previewed at this year's D23 Expo, the next movie from Disney's Feature Animation division is 'Strange World' which finds the studio in adventurous mood.
Directed by Don Hall, who made 'Big Hero 6,' and most recently co-directed 'Raya and the Last Dragon', 'Strange World' also features the co-writing/co-directing talents of his 'Raya' colleague Qui Nguyen.
Jake Gyllenhaal voices Searcher Clade, the son of a steadfast explorer (Dennis Quaid's Jaeger, who vanished on a quest). The black sheep of his family, Searcher chose a very different path from the others. Coming from a long lineage of brave and daring explorers, Searcher instead decided to get his hands dirty differently: by becoming a farmer.
But here, Searcher needs to team up with his family (wife Meridian, played by Gabrielle Union, and son Ethan, voiced by Jaboukie Young-White) to help them complete an incredibly dangerous mission. As he steps out of his comfort zone, Searcher is amazed and intrigued by the unknown alien world that surrounds him.
The action-adventure journeys deep into an uncharted and treacherous land where fantastical creatures await them all, as their differences threaten to topple their latest — and by far — most crucial quest.
As revealed at D23 and now more widely by this trailer, Searcher is sent on the mission by President Callisto Mal (Lucy Liu), who knows that the mysterious world is the key to saving their own.
It probably won't surprise you to learn that they encounter Jaeger, who has adapted to live in the odd environment.
Hall has admitted that he drew from classic books and magazines for the movie's style. "I loved reading the old issues of pulps growing up," he said in a statement when the first images for the movie came out. "They were big adventures in which a group of explorers might discover a hidden world or ancient creatures. They've been a huge inspiration for 'Strange World'."
For Gyllenhaal's part, he was excited to get into a voice booth for the first time, though he discovered that having to record his part from home during the pandemic was… less fun.
"I think all you really have, as an actor, outside of technical skills, is your imagination, so that was one thing. I did find it interesting," Gyllenhaal told The Scotsman. "We had a camera that had to shoot us doing the action so the animators could mimic our facial expressions, so I had a difficult time holding that screen up and talking to it at the same time and it was so, so hot. I played the entire role on my knees, in basically a prayer position by a bed, with two pillows over both sides of my head and a very heavy blanket over them."
Aside from those already listed, we do know that Alan Tudyk, who has lent his voice to every Disney animated movie since 'Wreck-It Ralph' is also present here, though we don't yet know who he's playing.
'Strange World' journeys to theaters on November 23.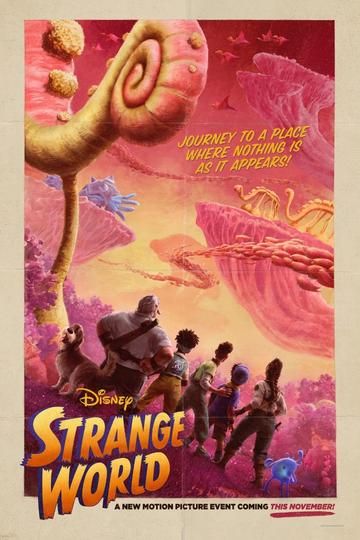 "Journey to a place where nothing is as it appears!"
A journey deep into an uncharted and treacherous land, where fantastical creatures await the legendary Clades—a family of explorers whose differences threaten… Read the Plot