Article content
Sadly, there was nothing to illuminate me on Calgary's plan — if any — to improve its response to streetlight outages.
Article content
You may recall back in 2019, I lamented about this city's seeming inability to find a few hundred thousand dollars to shorten the time it takes to bring darkened streetlights back online.
At the time, the city had hoped to supply the streetlight program with an additional $400,000 to allow for repairs to be made within seven days of a reported outage, down from the standard 30 days.
Officials weren't able to scrounge together the money — a piddling amount for a budget the size of Calgary's — and we were left with the status quo.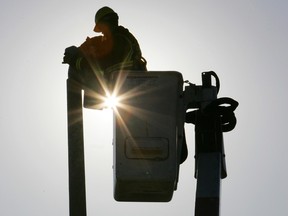 I don't think I have to work very hard to persuade you how important it is to have well-lit streets.
Article content
As a pedestrian, I want drivers to see me, especially where sidewalks are inadequate or absent, or when there are important crosswalks on main streets.
I also want to be able to see my surroundings, whether I'm walking or driving, so I can help myself feel and be safe.
Back in 2019, you could call 311 to report a streetlight outage and perhaps attempt to explain why a certain set of lights might require rapid attention due to dangers in the area related to street design or traffic volume.
Things have changed. I was more recently told by a 311 operator the only accepted means of reporting a problem with streetlights is to use the city's web-based tool.
On the upside, it's not difficult to operate and one can precisely indicate which lights need fixing.
Article content
A user can even request to receive an automated follow-up when the work is complete.
Sounds good so far.
While this system is fantastic in theory, I can't tell you how many times I've driven or walked past broken street lights and tried to remind myself to report the problem whenever it was safe to do so … only to promptly forget because I was busy with whatever.
Previously, I could have called 311 while commuting or walking and just taken care of it. No longer.
Then, there's no way of knowing or assigning repair priority to malfunctioning streetlights.
When all the lights went out on the main industrial street between the CTrain and our newsroom three years ago, I was able to explain to a real, live human being why the situation was an accident waiting to happen. I have no idea what happened to that information but at least I was able to relay it.
Article content
With the current system, there's no way of doing that. A light out is just another light out, wherever it is, however many there are.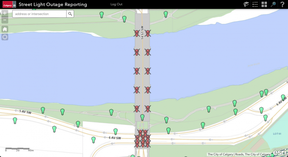 People who are marginalized are also denied the opportunity to participate. Perhaps they aren't great with tech, or maybe they don't have access to a PC or smartphone, or even to the internet. For others, there might be language barriers.
There's no accountability from the city, either.
I reported an outage for a string of lights a couple of blocks long back in June. The ticket was finally closed … in September. There was nowhere obvious for me to inquire about the progress of my report and there was no explanation for the long repair time.
It's possible to escalate a problem after 30 days but you have to remember and find the time to go back and check.
There's got to be a better way to do this — and from past city budget documents, we know it doesn't have to be an expensive solution.
[email protected]
On Twitter: @RickyLeongYYC