Even the most hardened individual would have to be emotionally gutted when hearing Erickson's tale
Article content
Some might argue it's a hazard of the profession.
Article content
But the fact that Calgary-area paramedic Jayme Erickson arrived at a horrific motor vehicle crash last week and unknowingly treated her dying teenage daughter is quite frankly an unspeakable tragedy.
Article content
Even the most hardened individual would have to be emotionally gutted when hearing Erickson's tale.
The advanced care paramedic with Alberta Health Services was on duty Nov. 15, when around 4:30 p.m. she and her partner were dispatched to a crash just west of Airdrie.
On scene they found two patients with injuries, including a young female trapped in the wreckage.
Erickson tended to the critically injured patient for about 20 minutes while firefighters worked to extract her before she was airlifted to Foothills Medical Centre by STARS air ambulance.
Article content
Likely satisfied she had done all she could for the badly injured patient, Erickson finished her shift and went home.
But minutes after arriving at her residence her doorbell rang. There a member of the RCMP informed her that her 17-year-old daughter, Montana, had been involved in serious crash.
"The critically injured patient I had just attended to was my own flesh and blood. My only child. My mini-me. My daughter, Montana," Erickson wrote in a Facebook post detailing the tragic circumstances surrounding the incident.
"Her injuries were so horrific I did not even recognize her. I was taken to FMC to see my baby girl, and was informed her injuries were not compatible with life."
Tragedy is something all too familiar for first responders, but it's something else completely when their work-life overlaps their personal ones.
Article content
Erickson herself was in court just a week before the deadly crash detailing a call which left her in tears on the witness stand.
She described arriving at the residence of murder suspect Anthony Karl Kurucz (whose ongoing trial has been delayed by the accused's illness) to find his infant son, Jayden, in severe medical distress.
Recalling hooking up the tiny baby to a heart monitor caused Erickson to become emotional, before she composed herself and explained the dire circumstances little Jayden was found in.
Article content
It was a poignant example of what first responders face on a daily basis as they work tirelessly to save lives which are often cut far too short.
At a press conference this week, surrounded by other members of her profession as well as family and friends, Erickson once again broke down emotionally, but this time it was on a personal level.
"Every first responder can relate to the pain that we're feeling," Erickson said as she choked back tears.
"Nobody wants to go through anything like this, and I just want my baby girl's memory to live on and I want everybody to know how much she meant to us and how much she means to my co-workers."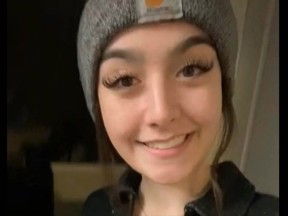 Chad Durocher, platoon chief at the Airdrie Fire Department, said the family's loss has been felt throughout the emergency responder community.
Article content
"All first responders share the horrible fear that we will have to attend a call where the patient is our parent, our spouse, our friend, or, God forbid, our child," he said at the same press conference.
"Seeing tragedy and horrific situations is just the reality of what we're forced to encounter every day in uniform," Durocher said.
"Emotional trauma for first responders is real and it's deep. It's nearly impossible to explain this kind of trauma to those that don't live it."
Erickson can take some solace in the fact at least two of Montana's organs were able to provide life-saving gifts to two transplant recipients.
It may be quite some time before she recovers from this, but the mom can rest assured her daughter's memory will live on for a very long time in the minds of Albertans.
On Twitter: @KMartinCourts