Article content
It is one of hockey's ultimate compliments — praise that a player makes those around him better.
Article content
Jonathan Huberdeau, a new face-of-the-franchise forward for the Calgary Flames, has not only earned that reputation. As a youngster, he aspired to it.
Article content
"There are always players who say that they don't want to play with others because they are less good," said Patrick Gagnon, who coached Huberdeau long before he was an NHL superstar — for three seasons at Cap-Jeunesse Secondary School and another with a bantam squad in his hometown of Saint-Jerome, Que. "Jo, on the contrary, came to see me to tell me to make him play with the less-good ones, that he was going to make them better."
Article content
Huberdeau won't be skating with the weaker links when the Flames open training camp Thursday at the Saddledome. The 29-year-old is a lock for first-line duties, replacing Johnny Gaudreau on the left wing. For the past couple of months, the C of Red faithful have been envisioning this sequence — a sweet saucer pass from the new guy in No. 10, a wicked one-timer from top centre Elias Lindholm. Or from anybody, really.
Article content
Huberdeau, remember, had the NHL's most helpful hands last season, leading the circuit with a career-best 85 assists before the Florida Panthers traded him to Calgary as part of a mid-summer jaw-dropper. Matthew Tkachuk, not willing to sign long-term with the Flames, headed the opposite direction.
"His vision is just incredible," said Huberdeau's longtime teammate MacKenzie Weegar, who also arrived in Cowtown as another key piece of that transaction. "He can make passes from anywhere. You know, he'll come over and he'll give me (crap) sometimes but I'm saying, 'Johnny, I didn't see what you saw. I'm sorry!' He sees the ice like nobody, and I'm sure he'll continue that this year."
Article content
The dazzling dish, the superb setup, seems to come second nature for Huberdeau, although he is capable of lighting the lamp, too. Since settling in at the NHL level, he's consistently buried between 20 and 30 goals. He'll immediately be considered the key to Calgary's offensive attack.
As Gagnon recalls: "He always had the talent to turn things around and take matters into his own hands during a game, much to the despair of the other team."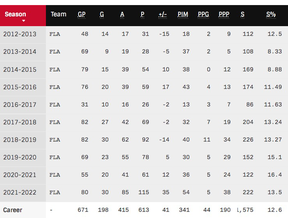 Dave Theriault had coached Huberdeau's older brother, Sebastien, and knew there was a second sibling on the way. When Jonathan showed up at 15 for tryouts with the Midget-AAA Saint-Eustache Vikings, Theriault & Co. were impressed with his skills and awareness — "he'd find the open guy very easily" — but worried the skinny youngster might fade when the physicality was cranked up. Still, he earned a spot on the roster. And then won the league scoring title.
Article content
"In his first regular game, we had some holes in our lineup and Jonathan played on the first line and he scored on his first or second shift," Theriault reminisced. "After a few weeks, all of our veteran forwards came to me to play with Jonathan. All the organization saw his passing abilities and his hockey sense."
Scoring on your first or second shift is a heck of an introduction.
This might be even better.
Before Huberdeau had even travelled to Calgary to tour the rink, meet the staff or hunt for a house, the assists ace inked an eight-year, US$84 million contract extension with the club, the most lucrative deal in franchise history. He'll be wearing the Flaming C through the end of the 2030-31 campaign.
That squashed any fear that Huberdeau, with one year remaining on his previous pact, would spend just one winter at the Saddledome and then scoot as an unrestricted free agent.
Article content
"Some people have said to me, 'Why would you sign that contract before he even skates out on the ice as a Calgary Flame? Why would you sign that contract before knowing whether he's going to like it?' " said Huberdeau's agent, Allan Walsh. "Yeah, that's one way to look at it. But Jonathan looked at it in a completely different way. He said, 'I don't want to go there with one foot in the door and one foot out the door.' The question he was going to be asked from Day 1 is, 'Are you going to stay here?' … Some of the fans would withhold their buy-in of Jonathan because there would be a thought in the back of their heads of, 'Is he a one-and-done deal? Is he going to want to commit here long-term or is it going to be another summer of heartbreak where a really good player leaves the market because he doesn't want to play here? Are we setting ourselves up for that down the road?'
Article content
"Jonathan made the decision, and it was his decision, that 'I don't want to be in that position and I don't want the team to be in that position. I don't want to walk in the door and all these questions are swirling.' He said, 'No, I'm going in fully committed, heart and soul, and I'm going to be a Calgary Flame for the next nine years.' That's the way he wanted it to be."
Make no mistake, the trade initially came as a shock to Huberdeau.
He'd been in Florida for more than a decade, ever since arriving as the third-overall pick in the 2011 NHL Draft. He departed as the Panthers' all-time scoring king, with 198 goals and 613 points to show for 671 spins in that sweater.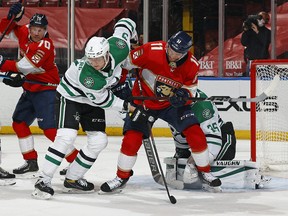 Bill Lindsay, who skated 13 seasons in The Show and is now a broadcaster and analyst in the Sunshine State, has watched Huberdeau blossom from highly touted prospect into "one of the best playmakers in the league." As he put it, "some of the passes he makes are absolutely scintillating."
Article content
Lindsay watched in awe last winter as the slick left-hander posted his most productive campaign yet. Huberdeau's longest 'drought' was a two-game stretch without a scoresheet mention. He piled up 115 points, tied with Gaudreau for second on the league charts. He finished fifth in Hart Trophy balloting, including 13 first-place votes.
"Last year was his most consistent year from start to finish," Lindsay praised. "Right from Game 1 all the way through to the end, there wasn't hardly any dips … It seemed like every game, he was first or second or third star."
With his change-of-address, there will now be more eyeballs on Huberdeau.
"I played in both Florida and Calgary, so I understand both markets," Lindsay said. "In Florida, you're not under the microscope as much. But being from around Montreal, that being a huge hotspot, and recognizing it, I think that's something he is really looking forward to is the attention.
Article content
"Now, in Canada, people are going to see a lot more of him. He's going to be on TSN. He's going to be featured a lot. He's going to be on Hockey Night in Canada almost every Saturday. That is something that is probably the most intriguing part of him going to Calgary is being in that spotlight and trying to see if he can produce under that microscope. And I think that's a challenge he wants."
He certainly doesn't seem to be shying away from it.
At the Flames' charity golf tournament, he beamed when he mentioned that he'd been spotted before he even collected his luggage at the airport.
His first appearance at the Saddledome was an on-stage surprise at the Canadian Country Music Awards.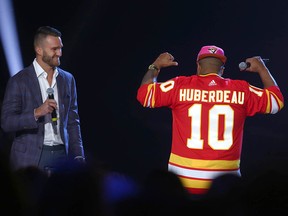 Those who know Huberdeau best describe him as humble, polite and respectful. Walsh credits that to his upbringing, saying he comes from a "wonderful family."
Article content
"I think Jonathan is getting used to the fact that he's now Santa Claus and every day is Christmas Eve," Walsh said of Huberdeau's new reality as a go-to guy in a hockey-crazed city. "There's no more anonymity when you walk into a restaurant or walk into a store. Everybody wants to have a selfie, an autograph, a quick conversation. And I think the community will find that there could not be anybody more embracing of that role and understanding of the responsibility that goes with it than Jonathan.
"There are certain players, with certain personalities, who would perhaps not be best-suited to be in that role because they want to just be left alone. I think Jonathan understands that signing the contract he did and coming into Calgary at this stage of his career, there's a certain responsibility that comes with it and a certain expectation of the way he will carry himself off the ice. And he's fully embracing that."
Article content
With enough assists, and especially if he can carry the Flames to some playoff success, he may rarely have to pay for a steak dinner.
Over the past five seasons, only a pair of NHLers have registered more helpers than Huberdeau — Connor McDavid and Artemi Panarin. Impressive company.
"He's just an elite distributor," said Flames general manager Brad Treliving. "What he doesn't get enough credit for, too, is he's a strong young man. He has the ability to not only create plays, but to extend plays, hold people off, win puck battles, keep possession. And then obviously he's just one of the elite players at finding people — finding people and making things out of nothing. You hear it all the time about people who make others better, and there's not a lot of them but he certainly is one. He does it by creating space and delivering pucks in the scoring area that guys have an opportunity to finish.
"And then, and this part is a little under-rated, he can shoot it in the net himself too. Just a really creative player."
Twitter.com/WesGilbertson