Halloween creeps ever closer (though if you go to a grocery store, Thanksgiving and Christmas are competing for shelf space with it already), so of course we'll be getting plenty of new horror movies and shows aiming to send shivers down our spines.
Hulu is, of course, betting big on the genre, and one of its heavy hitters this year is a new 'Hellraiser', directed by 'The Night House's David Bruckner.
But while it draws from the same basic Clive Barker story as the original film, don't go thinking that this is a reboot.
"This is not a remake," Bruckner previously told Entertainment Weekly. "I just didn't think you could ever remake the original 'Hellraiser'. It's too much its own thing and it would be, I think, perilous territory for filmmakers, because how do you top that? This is a new story in the 'Hellraiser' universe.'
It will still feature the puzzle box, which this time comes into contact with a troubled young woman named Riley, played by Odessa A'zion. She's struggling with addiction and compulsive behavior and comes in contact accidentally with the box and unfortunately begins to dabble with it. Chaos, as you might be able to predict, ensues.
The leather-clad cenobites, those pale, unforgiving creatures from another dimension are ready to claim more victims, with the puzzle box drawing blood and consigning those who solve it to the terrifying machinations they dream up.
These are, after all, creatures that see no division between pleasure and pain, so you know there is torture in their unfortunate targets' future.
In the original 1987 movie (written and directed by Barker), the lead Cenobite, Pinhead, was played by Doug Bradley, who would go on to squeeze himself back into the suit for seven of the nine sequels.
A fully new story, though, demands a new Pinhead, and 'Hellraiser' (which, yes, like other legacy sequels such as 'Halloween' and 'Scream', carries the same name as the original) has 'Sense8' actress Jamie Clayton playing a fresh take on the character. While we've seen female cenobites before, this is the first time one has been at the center of the story.
"We felt a kind of anticipation around the fans to reimagine the character," says Bruckner. "We knew we wanted Pinhead to be a woman. Jamie was just the right person for the role. A person's identity can be really exciting for a role in many ways, but I have to emphasize that Jamie absolutely killed, that's how we got there."
And Bruckner enjoyed a 'Night House' reunion for this film, working from a script by 'House' writers, Ben Collins and Luke Piotrowski.
With Goran Visnjic, Adam Faison, Drew Starkey, Brandon Flynn, Aoife Hinds, Jason Liles, Yinka Olorunnife, Selina Lo, Zachary Hing, Kit Clarke and Hiam Abbass in the cast, the new 'Hellraiser' will launch on Hulu on October 7th.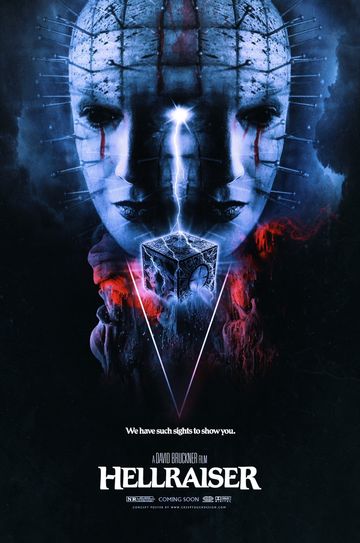 Not Yet Rated
This remake of the 1987 supernatural horror film of the same name will return to re-interpret the source novella "The Hellbound Heart" by Clive Barker. Read the Plot