Article content
Chris Tanev has rolled out the welcome mat for MacKenzie Weegar.
Article content
Why not, given the Calgary Flames' shiny off-season acquisition could well be quite the complementary blueline partner for the hard-nosed Tanev?
Article content
There's potential for top-flight unity there, it seems.
"Yeah, Tanev has been great," said Weegar of his new teammate Friday. "You know, he's been a real leader. He makes it a lot more comfortable for me here, picking me up to get to places where I wouldn't really know where to go. So that helps a lot."
Article content
The summer pick-up — part of the blockbuster deal that moved Matthew Tkachuk to the Florida Panthers — also singled out Milan Lucic and Noah Hanifin for their western hospitality upon his arrival to the Stampede City.
But it seems Tanev and him are a good fit, both on and off the ice.
Article content
So far, their time on-ice with each other has generated significant buzz …
For good reason.
"Yeah, it's been really easy," Weegar said. "I mean … that practice there, I don't think I broke the puck out one time. So he's easy to play with, you know. Great guy, easy to get along with, and a guy you want to play really good for. And I'm looking forward to continuing that with him.
"He's got a great stick, he's always in the right spot, he jumps up in the play, and he wants to lead the rush sometimes. And then he gets back, and he defends the rush really well."
All that of Tanev is a known quantity among Flames faithful.
But what of Weegar?
The stats tell us he's got some offensive touch, with 27 goals and 121 points in 306 NHL games, including a career-high 44 points last season. But, obviously, there's more to the game of the 28-year-old Ottawa product.
Article content
"Obviously, he had a great year last year on a good team, and I think he's gonna bring a lot to to our d-group," Tanev said. "He moves very well and, obviously, passes the puck well. I think that's one of his biggest strengths is just being able to break the puck out and get the puck up the ice to to our skilled forwards.
"I think if we play together, we'll complement each other. It's still early in camp. You get to know people and get to know what they are, how they play and where they are in certain situations. But, yeah, that comes with just getting out there together and playing together."
And hanging out together.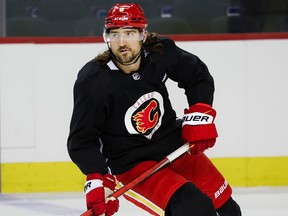 "It's easy to go out for dinner or go for lunch and just to get to know guys," said Tanev of playing the role of good host for Weegar. "I mean … when I first came here, guys did that to me. It's hard going to a new team, especially from Florida to Calgary, it's going to be a big transition. A lot of a lot of things are going to be different.
Article content
"So as a group, we're just trying to welcome the new guys as much as we can and make them feel comfortable. Because if you're not comfortable, it's hard to go out on the ice and perform at your best."
Indeed, any time there's a reload of talent, a team's best is unlikely to show itself until after, at least, a period of getting to know one another.
And that's especially true of the Flames after the summer of turnover that saw cornerstone players depart — in Tkachuk, Johnny Gaudreau and Sean Monahan — and other elite players arrive — in Weegar, Nazem Kadri and Jonathan Huberdeau.
Many big moves mean time needed to get comfortable with one another.
"Yeah, I think the biggest thing, probably, for me is just trying to fit in and make guys know that I'm here," added Weegar. "I'm committed, and, you know, I want to win with these guys. So I think that's probably the biggest adjustment. Other than that, I think it's just playing with new guys trying to see some chemistry and just talking to them and getting to know these guys a little bit more.
Article content
"Everyone's been really good. They make everything really easy and simple. And, you know, it's been a great group so far, and I'm happy to be joining this team."
TANEV FEELING GOOD
Tanev himself says he's good to go after a shoulder injury interrupted his stellar play last spring at exactly the wrong time.
Recall that Tanev was hurt during the Stanley Cup playoffs and missed four games of the post-season.
The tough-as-nails blueliner then had surgery in late May to repair a torn labrum.
His timeline to return to the ice was initially pegged to be as long as six months, but the 32-year-old is back a few months earlier than expected, having skated with the main group during the first two days of camp.
"Feels good," said Tanev, after a second day of Flames' main camp. "It's great to be back. I think it's important to be in in camp and participating. I think guys who, if you miss camp, you're always behind the eight-ball and it's tough to catch up — usually takes a bit longer than you think."
Article content
What's the plan moving forward then?
"We'll open it up as as I'm allowed to," Tanev said. "Yeah, obviously, Game 1 (on Oct. 13) is the plan. But … um … we still have three weeks until camps are over, basically. So we'll go through the progressions that we're told we have to do, and as we can open it up, we definitely will."
Tanev was injured in Game 6 of the first round and was unable to suit up for the finish of the series victory over the Dallas Stars. After missing the first three games of the second-round series, he valiantly returned to do whatever he could to help the team in Games 4 and 5 against the Edmonton Oilers. But it wasn't enough for the Flames, who fell in five games to their provincial rivals.
"Sucks," Tanev reiterated Friday. "Sucks watching. Sucks watching when you're losing, especially. You want to be out there and and contribute and help as much as you can. Yeah, the four games I didn't play … it's not great. But you move on.
Article content
"And that starts right now."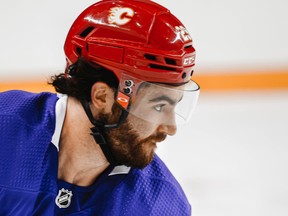 DUBE FITTEST
Dillon Dube was posted the best results among the Flames from Wednesday's fitness testing.
That's the second year in a row with top marks for the up-and-coming forward, although his numbers weren't markedly better than the others in what was an expected fit group of NHLers.
No matter, because it's what he does on the ice that is most important to head coach Darryl Sutter.
"His February on and then playoffs, Dillon was a really good player for us," Sutter said. "He's a versatile kid, and he's a guy that just as he gets a little bit older, the whole preparation part and his maturity part of his game takes another step, and that's what you want to do."
Trevor Lewis and Mikael Backlund finished second and third on this year's fitness podium.
Article content
LOOSE PUCKS
Dube, the captain of Hockey Canada's 2018 world juniors, was asked Friday by Sportsnet's Eric Francis to comment about the investigation of that team regarding an alleged group sexual assault. "I've cooperated in any way possible and will continue cooperating," tweeted @EricFrancis. "I've done everything I can to cooperate." … Another day, another eyebrow raise from a former Panthers player at the large number of media-types who greeted him for a few words about his early days of training camp with the Flames. "Is it already playoffs?" Weegar quipped Friday … No word of roster moves after Day 2, as the same 67 participants that skated on Day 1 were back out Friday in three groups. The camp consists of six goaltenders, 23 defencemen and 38 forwards … LW Andrew Mangiapane sat out Day 2 again with a 'tweak', as described by Flames GM Brad Treliving … D Oliver Kylington remains away from camp due to a personal matter … Day 3 of camp goes Saturday with a scrimmage at 10 a.m. at the Dome. That action will further help prepare the teams for the pre-season, which opens Sunday with a pair of split-squad games against the Vancouver Canucks. One goes at the Saddledome (6 p.m.), while the other is scheduled for Vancity's Rogers Arena (5 p.m.) … They follow with more exhibition contests in the next week Tuesday against the host Seattle Kraken at Climate Pledge Arena (8 p.m.), Wednesday versus the visiting Edmonton Oilers at the Dome (7 p.m.) and next Friday against the host Oilers (7 p.m.). The Flames' pre-season schedule then rounds out with tilts Oct. 3 vs. the visiting Kraken at the Dome (7 p.m.), Oct. 5 against the host Winnipeg Jets at MTS Centre (6 p.m.) and Oct. 7 in a rematch with the visiting Jets at the Dome (7 p.m.).